The Caboose Story
The original Copper Caboose was located at the corner of 4th & Boston Avenue in the shadow of Texas Tech's AT&T Jones Stadium. Founded in 1977 by Frank Smith, and brothers, John & Frank Fitzpatrick, the Caboose is credited with serving Lubbock's Original Beef and Chicken Fajitas. Over the years, we've added many West Texas favorites and authentic Mexican dishes to the menu, but our first Tex-Mex dishes were introduced by Lupe Gonzales, from his family recipes.
In August of 1990, partner Bob Jordan discovered a second Lubbock location just down the street from the South Plains Mall. With a new group of partners and a few new twists, the 50th Street Caboose was born; conceived by partners John Fitzpatrick, Phil Bradley and interior designer Gladys Harboth. The 15,000 square foot restaurant and bar would be complemented by a "Midway" of more than 75 arcade games, pool tables, a redemption center stocked full of electronics, toys, novelties and giant stuffed animals. From the beginning it was a hit, and when the "Tokens for A's" promotion was launched, it changed Caboose history! Game play for good grades made the Caboose the Lubbock family fun destination. Many of our original customers will remember the train that circled the bar, giant TVs in almost every corner, exposed ductwork suspended from the ceiling and floor-anchored-fans accenting the unique industrial design. Our menu of authentic Mexican dishes and recipes continued to evolve with creative additions from George Amaya.
In 1992, we added 3 party rooms for the kids, with local artists creating original Disney-style artwork on the walls to complete our first remodel.
Then, in 1998, we updated and relocated our 3 party rooms and unveiled our million dollar game-room, featuring 100 arcade and redemption games, designed by partner Curtis Jordan, of Jordan Amusement and Billiards. Our Party Rooms are available any day, lunch or dinner, by reservation. They are popular for all occasions; birthday parties, family events, office parties, team gatherings, professional meetings, civic meetings, holiday parties or just a friendly get-together.
In June 2001, after 24 years, the original Copper Caboose, moved to its current location at 56th Street & Ave Q. This location features our same great menu, strong on authentic Mexican flair and an out-of-this-world "all-you-can-eat" fajita lunch buffet. With more of a sports bar vibe, this Caboose features 20 big screen TVs, 12 booths with individual TVs, and FREE POOL all-day-every-day on 10 Brunswick medalist tables. Stop by and visit our managers, GM- Johnny Garcia and Oscar Gonzales.
In 2005, we added The Sports Grill at 50th Street Caboose.. This latest remodel brought the Caboose to its current size of 20,000 square feet, adding a second bar, 25 TVs, a giant video wall and pool tables. If you're in the mood to watch your favorite team while the kids play games, the Caboose will satisfy your cravings.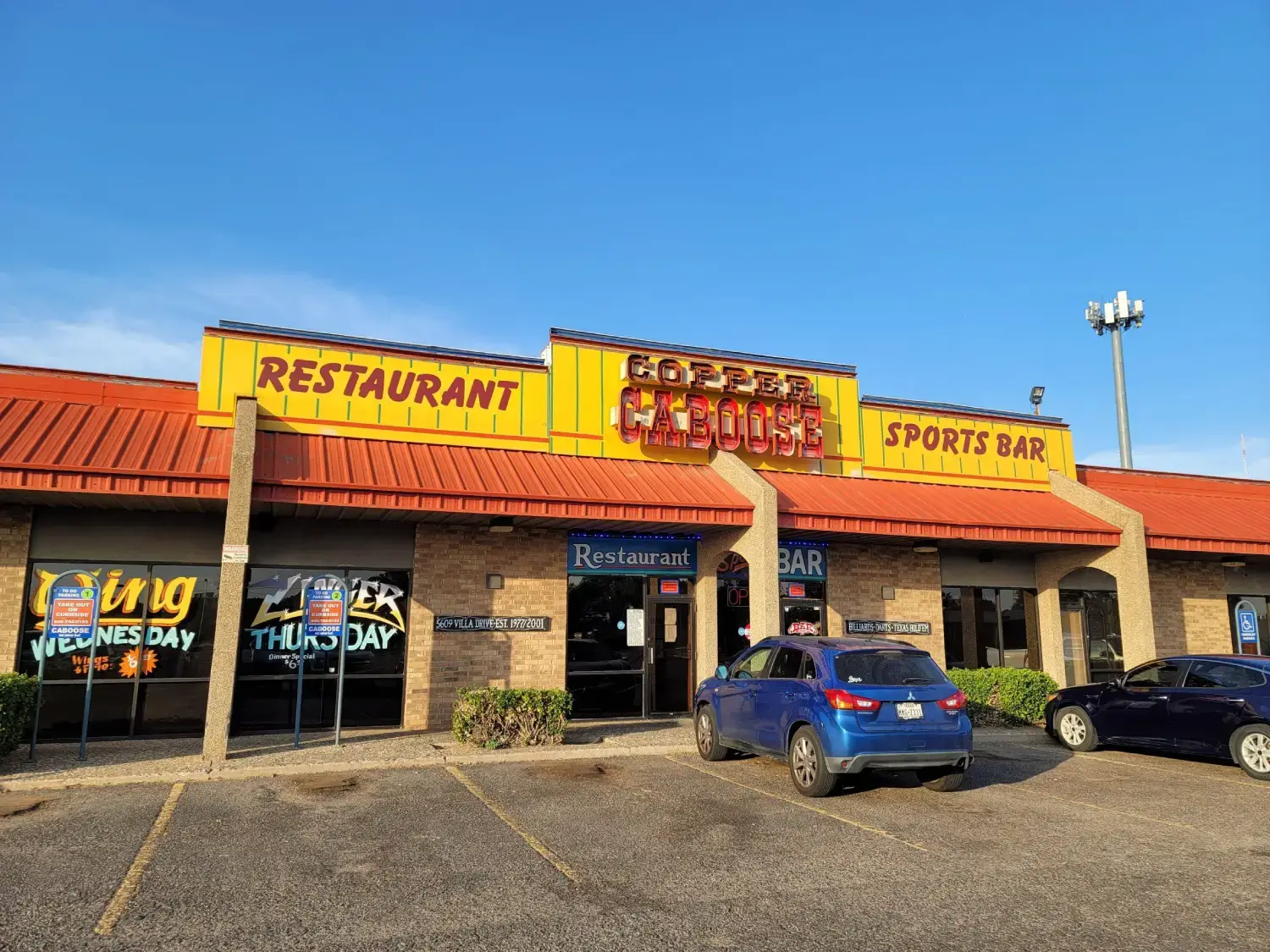 By popular demand, Caboose Catering was launched in 2009. We offer flexible menus and pricing and would love to bring our Caboose fiesta from our kitchen straight to you. Whether you are celebrating with family and friends, making a presentation to co-workers or potential clients, needing office drop-offs, or tail-gating with fellow Tech fans, choose Caboose Catering for your next event!
In 2020, we were faced with the Covid-19 shutdown like most other businesses. We made it through this incredible challenge through the loyalty of our amazing management and employees. We were able to keep many of our staff employed; cleaning the store from top to bottom. We maintained contact with everyone else, in hopes they could soon return.
On March 19, 2020, Governor Abbott ordered all restaurants to close, allowing only curbside services. We made the best of the situation by creating a ToGo Bulk Menu, an alcohol ToGo menu and ramping up our curbside and delivery services with platforms like Favor, DoorDash, UberEats & GrubHub. As always, the Lubbock community rallied to support us. On May 1st of 2020, Governor Abbott allowed us to open at 25%. Later in May, we were at 50% and reopened our Gameroom. Finally, almost a year later, on March 10, 2021, all Texas restaurants were 100% open. The entire Covid experience has made us better. We are grateful for the continued support of our loyal customers and are excited for the opportunities ahead; to deliver the best Caboose experience to everyone in so many different ways.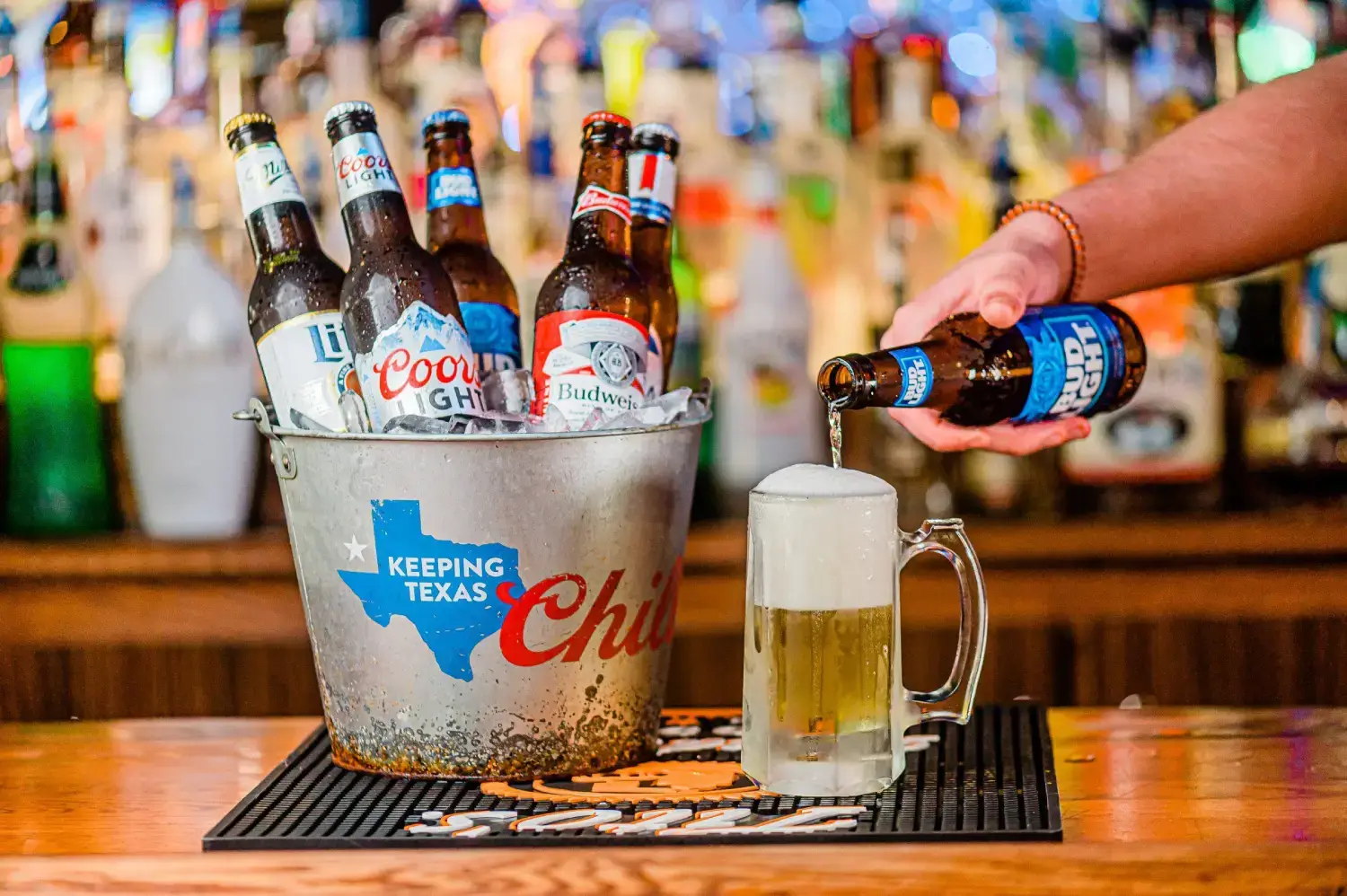 Visit Copper Caboose and 50th Street Caboose to experience the unique Caboose concept. Enjoy our classic homemade Mexican dishes, great sandwiches, char-grilled fajitas, steaks, shrimp, catfish, chicken strips, crispy salads with house-made dressings, traditional American favorites, arcade games, a game of pool, or just a gathering with friends and family.
As always, we hold the sincere desire to exceed the expectations of each and every guest with quality service, wow drinks, great food and an unforgettable entertainment experience. We serve fun!
We look forward to seeing you again soon,
Liz and Phil Bradley
Managing Partners
CabooseOnline.com